DICTIONARY OF EGYPTIAN SHIPWRECKS S
DICTIONARY OF EGYPTIAN SHIPWRECKS- S
M.V. SAFIR
The Safir was a 9,072 GRT Cargo Ship built at Austin & Pickersgill Shipbuilding Co., Southwick, UK, for the Northern Star Navigation Co. (Mavroleon Brothers), Monrovia, Liberia.
The ship's keel was laid on 16 August 1972, launched 07 November 1972, and completed on 05 January 1973. The ship was 141 meters in length, 20.5 meters in beam, and 8.86 meters in draught, with a single diesel and shaft for a speed of 14.5 knots.
The ship was renamed Ermioni in 1979 while still owned by the Mavroleon Brothers until being sold in 1982 to Yama Maritime Inc. and renamed Lori R. The ship was one of 8 ships purchased by the then, newly founded, Yama Maritime Inc. which was formed by the Nakash Brothers. The Nakash Brothers are the founders and owners of the Jordache clothing line.
The ship was sold again in 1984 to the Seaman International Sg. Co., and renamed Safir.
The ship's loss:
On 12 September 1989, after having departed Aqaba, Jordan with a cargo of 14,700 tons of rock phophate, the Safir ran aground on northern edge of Gordon Reef in the Straits of Tiran. Salvage efforts were able to later refloat the ship. However, on 18 September, the ship sank off of Ras Um EL-Sid at position 27.47.00N/34.24.18E in over 1000 meters of water with no loss of life reported.
SALEM EXPRESS  
   THE VESSEL
Built in1964 at La Seyne in France as   the FRED SCAMARON, by C.N.I.M. She was 4770 tons, 100mtrs long 18 mtr beam and  5 mtr draught., NUITS ST. GEORGES, LORD SINAI and  AL TARA . In 1988 She was registered to the SAMATOUR LINE  and re named the Salem Eexpress. She  was powered by four   8 cylinder  "L'Atlantique" diesel engines.
THE FINAL VOYAGE
On December 15th 1991 one of the greatest maritime disasters of recent times occurred a few miles from the Port of Safaga on Hyndman Reef. The  100m long passenger ferry, SALEM EXPRESS was returning with her decks crowded with pilgrims from Mecca. Official numbers quote 690 passengers but there are reports that as many as 1600 people were on board.
Her final voyage began at Jeddah, as normal her duties were to ferry passengers to and from Safaga. On this particular journey there were strong winds and rough seas. Approaching Safaga, the Captain decided to take a short cut to the south of Panarama reef leaving the safety of deep and open water for a shallow passage riddled with reefs.
The ship struck an unseen reef with a glancing blow, ripping a great hole in the forward section of the hull on her starboard side. The sudden in rush of water caused the outer bow door to burst open allowing more water to enter the already   listing vessel. As the car deck filled with water she rolled over onto her starboard side and sank in 30 mtrs in less than 20 minutes . Many of those on deck were thrown into the water and died when the corrugated sheeting, used as an awning, fell on them.    Only 180 survived, many by swimming ashore
DIVING THE WRECK.
At over 100mtrs long the wreck is certainly worth  2 dives, but even if there is only time for one dive there is still much to see and with the upper reaches of the wreck in only 12 mtrs and the use of nitrox (36% @1.5) good long dives are possible, even without decompression.
At the bow the outer door can be found – now almost closed again, and above and below are the two anchors- still in place. Swimming along the seabed passed the foredeck with its winches and anchors the bridge comes into view a few meters above. The large windows permit access, and a rear door allows the tour to continue, coming out at a haunting site.
Reaching the stern the twin props come into view, and her stern door, still closed sways on its hinges, the rubber gasket now rotted away, allowing for movement in any swell. Here pipefish swim over a light growth of algae.
Ascending slowly forward over the aft deck several doors lead into the cafeteria running forward and taking up the entire beam of the deck. Piles of chairs have fallen into the depths, while tables stick out at right angles. Straight ahead is the service counter- and an exit door out to the companionway above (port side)
The port companion way still bears many of the seats positioned along its length, and florescent lights, recessed in the ceiling now stand  vertical. Juvenile lionfish , scorpionfish and even a solitary frogfish shelter in the walkway.
Because of its history the wreck have provoked much debate over whether it should be dived or not. The sight of personal belongings on the seabed is very saddening, but if the wreck is dived with respect then it is no different to walking the battlefields of  the World Wars. Some people make a holiday out of that.! 
Divers Swim under the bow towards the  starboard anchor. Soft corals are now beginning to colonise the wreck. The wreck is home to many giant moray eels, and its not unusual to be confronted by one free swimming.
One of the  many swim throughs. The main cafeteria can be accessed from the rear door. The chairs have all fallen into the lower section.The ceiling is to the left of the picture!
 SARA -H.No such ship ever existed.The name came from a practical joke played on a very poor author and the usual "it was in the book so it must be true" syndrome spread.It took extensive research by PETER COLLINGS to identify the wreck as the S.S. KINGSTON 
M.V SARAH
 "We noticed her last year while exploring the EL ARISH and the EAST STAR (aka CLARK CHAPMAN WRECK )-and took photos of her at anchor, jokingly predicting her as the next "new" wreck. She looked forlorn and destined to sink."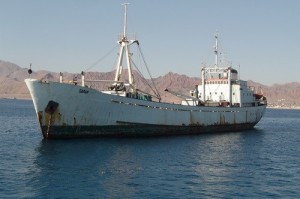 Built in 1956 as the TORFINN JARL by As.Trondhjems Mek.Verksted, Trondhjem.. She was an  80mtrs x 11 x4.2m, 963ton,ice strengthened motor refrigeration cargo ship (often referred to as a reefer).Her oil 4sa 6 cylinder MAN  diesel engine had an output of 1260BHP.
In 1976 she was renamed the DOMA-T when she came under the ownership of the  Orient Shipping & contracting (Greece).
Eventually becoming the SARAH, she lay at anchor off Safaga Island in an abandoned state until she sank on the 1st November 2007.
The wreck now lies on its starboard side in 14 mtrs of water, her portside awash and her davits breaking the surface.This 60 mtr cargo ship sat at anchor abandoned for over a year, before it capsized and sank close to Safaga Island. Remains of its last cargo- onions-could still be seen in the holds. Lying  on its starboard side, the hull is covered in a glorious coat of soft corals, sponges and sea squirts-grown on the hull as it sat at anchor. There is little or no damage to the vessel, however it is evident that it was stripped of its instruments before it was abandoned. The compass binnacle sits on the navigation deck minus the compass and the electronics have all been removed. Her masts however still support many running lights- and the gyro compass is still in place- at the time of writing.
A thin film of sediment covers the wreck and a plaque on her crane reveals its maker-
TALPR DUKTE,MOLDE , BRATTVAAAG,NORWAY. Despite this film, the paintwork still looks fresh-she had only been down a few days when we dived her.
There is no doubt as to her name at the time of sinking .SARAH is clearly visible on the hull and her lifebelts and life jackets. A set of fire plans was found on the seabed, showing her as the DOMA -T in 2000.
                    DIVING THE WRECK
Lying on a sandy bottom in 14 mtrs, the superstructure is bathed in the morning sun and the wreck is totally intact. Her central crane and jib have swing downward and the makers plate is clear to see. Both masts run out horizontally and are at the time of writing adorned in all her navigation and running lights. Rigging and aerial cables are still in place. The holds are empty save for a few bags of onions, presumably her final cargo. The aft superstructure housing the navigation bridge, engine room and accommodation block is easy to locate and her binnacle, gyrocompass and even a telephone are all in place. Both the bow and stern are very impressive and the shallow depths give strong natural light ideal for photography. Although this is a very new wreck, her hull, propeller and rudder are covered in a very well established eco system of soft corals sponges and invertebrates-suggesting she had been at anchor for some time. This offers great  potential for a night dive.
S.S. SCALARIA
THE SHIP
Built in 1922 for the Anglo-Saxon Petroleum Co at Swan Hunters, Newcastle, this 5683 ton steam tanker was 411 ft long, 55 FT beam and 30 FT draught, capable of 10 knots and fitted with triple expansion engines built by the Wallsend Slipway Engineering Co. She was requisitioned in the Admiralty services and armed with 1 4", 1 12pnr 2 twin Lewis 4 Hotchkiss and one Breda. She had a crew of 52 including 4 navy gunners
THE FINAL VOYAGE
CAPTAIN J. WARING "We sailed from Hurghada at 0630 on 18th October 1942, arriving off Ras Gharib at 1530 the same day to load with crude and then proceed to anchorage "B". I hoisted a signal to be moored without delay conditions then being favourable. At 1615 I was informed that the vessel could not be moored until the following morning."
Next morning the Scalaria docked and started to load 7000 tons of crude oil. At 1750 Waring received an instruction to house his balloon, and not fire on any aircraft as there was to be a practise flight with lights burning between 2000 and 2200hrs.
THE SINKING
CAPTAIN J WARING "At 2215 I made the rounds of the ship, saw the gunners at their posts. At 2230 I retired to my room, being awakened at 2230 by an attacking Heinkel HE 111 approaching from the land, roughly westward. The aircraft circled at approximately 100 ft, then dropped a torpedo which struck the ship on the starboard side abaft of the bridge in no. 3 tank. There was a terrific explosion which caused the ship to shudder violently and carried away the stern moorings, causing the ship to swing round from north to south. All the woodwork in my room collapsed and the iron frame twisted, jamming the two doors. By sheer force I burst one door open and on reaching the deck saw the whole of the after starboard side of the deck was ablaze, with burning oil pouring from the ships side and drifting aft."
At this point the Heinkel lined up for another attack, this time releasing a bomb.
Some of the men were trapped aft and ran up onto the poop others on the fo'c'scle slid down ropes over the bow.
WARING " I WAS ABOUT TO SHOUT  TO THESE MEN WHEN A BOMB STRUCK THE FOREDECK WITH A TERRIFIC EXPLOSION.I WAS BADLY BURNED  AND INJURED BY THIS BOMB AND SAW IT WAS NO USE TRYING TO GET THE MEN TO COME AMIDSHIPS AS THE WHOLE FOREDECK WAS NOW BLAZING FURIOUSLY".
"I could not get to the ships papers as my cabin was completely wrecked and flames were coming up the accommodation ladder."
A sketch of the Scalaria from an identification log book belonging to the Captain of a German submarine, hunting for the ship.
THE DISCOVERY
Armed with this detailed information and hydrographic reports three expeditions were carried out to locate the wreck. By the third trip we had located several other wrecks (Aboudy, Attiki,  Bakr, Birchwood, Elliot, Gemini, laura Security,) These finding has allowed us to eliminate several suspects-Scalaria was by far a bigger ship and by the third trip we had a pretty good idea where she was.411ft and 5600 tons of l of ship on a sandy bottom a big clear target.
Members of Brighton BSAC joined my in the search and we found her a mile north of our "guesstimation". Even before we dived her I knew this was the Scalaria-there was her bow facing south just as J Waring had stated.
The bow and fo'c'sle were found upright broken off from the main section. Iron framework and adders helped define the section of ship. From here back to the centre island was a dispersed area of huge proportions with her valve-ing and pipe work twisted, distorted and mangled amongst sectional framing and bulkheads over an area of 200ft x 50ft. Portholes, deck fittings and winches lay scattered in a chaotic scrapyard of metal.
Where the centre island had been the wreckage stood almost to the surface with more large sections of her holds standing upright. More evidence of the massive explosions in the form of huge sections of steel folded outwards forming overhangs for fish and encrusting species.
Three huge boilers mark the aft section of the vessel. With the engine house gone, the triple expansion engine lies bare –big ends con rods and a huge reversing wheel are easily located and recognised
 The stern, like the bow is upright reaching to within a few feet of the surface- her propeller  long since salvaged, but leaving no doubt as to the size of the vessel.
The wreck's condition can be described as "well dispersed"but some sections of the wreck still stand several mtrs tall (picture left above).Her prop has been removed but the stren rises from the seabed almost to the surface.
POSTSCRIPT
At a Board of Trade enquiry on the 12th October 1943 Captain J Waring further stated
"0n finding the ship would be delayed overnight I pointed out the danger of this delay which was in my opinion quite unnecessary and in my opinion resulted in the loss of my ship as we would have sailed in safe conditions to anchorage B by 1000 on the 19th Oct.
"All of my crew behaved well throughout, and carried out their duties without fear or panic.
I WOULD ESPECIALLY MENTION 2ND OFFICER ARMATAGE FOR HIS VERY GALLANT ACTION IN ASSISTING THE BADLY WOUNDED 3 RD OFFICER THROUGH THE FLAMES TO THE FOC'SLE HEAD. HE WAS UNDOUBEDLY RESPONCIBLE FOR GETTING THIS OFFICER SAFELY AWAY FROM THE BURNING VESSEL, BUT I REGRET TO SAY THE 3RD OFFICER LATER DIED IN HOSPITAL"
Unheeded warning; the telegram sent by Captain Waring to the Admiralty hours before the ship was lost
M.V.SAD EL  FURAT
n Egyptian motor tanker of  13,235 tons, 560 ft long. Built for the United Arab Marine Company in 1960 in Hamburg. She caught fire while along side a terminal jetty at Suez on April 4th 1969 during an exchange of fire  from artillery from opposing sides
S.S.SAINT CLAIR
A French steamship with a cargo of Benzene, caught fire and ran aground on the Mex near Alexandria on the 11th August 1921, inbound from Barcelona.
H.M.S. SALVIA (K-97)
The HMS Salvia (K-97) was a Flower Class (sometimes called Gladiolus class) corvette 955 Grt. built at Willam Simons & Co., Renfrewe (Yard No. 731) for the British Royal Navy. Launched 06 August 1940. A British Navy corvette of 926 tons,  she was 193 ft long, 925 tons, and her quadruple expansion engine gave her a speed of 17 knots. Her main armament was a 4"A.A gun and she had a compliment of  85.
Specifications:
Displacement: 925 long tons (940 t/1,036 ST)
Length: 205 feet (62.48 m)o/a
Beam: 33 feet (10.06 m)
Draught: 11.5 feet (3.51 m)
Propulsion: (1939-1940 program)
single shaft
2 x fire tube Scotch boilers
1 x 4-cycle triple-expansion reciprocating steam engine
2,750 ihp (2,050 kW)
1940-1941 program       single shaft
2 x water tube boilers
1 x 4-cycle triple-expansion reciprocating steam engine
2,750 ihp (2,050 kW)
Speed: 16 knots (29.6 km/h)
Range: 3,500 nautical miles (6,482 km) at 12 knots (22.2 km/h)
Complement: 85
Sensors and processing systems:
1 x SW1C or 2C radar
1 x Type 123A or Type 127DV sonar
Armament:
1 x 4″ BL Mk.IX single gun
2 x .50 cal machine gun (twin)
2 x Lewis .303 cal machine gun (twin)
2 x Mk.II depth charge throwers
2 x depth charge rails with 40 depth charges originally fitted with minesweeping gear, later removed
LOSS OF THE SALVIA
On 23 Dec, 1941, HMS Salvia (LtCdr John Isdale Miller DSO DSC) was escorting the convoy TA-5 (Tobruk to Alexandria) when Shuntien was sunk by U-559 (Heidtmann). The ship carried 850 prisoners of war and the HMS Salvia stayed behind to collect survivors but was not seen again, only oil and wreckage was found by HMS Peony (K 40) about 100 miles west of Alexandria at postion 31.46N/28.00E
SS SAN JUAN
Built in 1900 for the New York and Porto Rico Line by Harland &Hollingworth,Wilminton Del.  She was a 4 hold cargo passenger ship 317 ft long 42  beam with triple expansion steam engines.
On July 30th, 1941, the Panamanian (American owned) cargo/passenger ship SAN JUAN (sistership PONCE), built in 1900 by Harlan & Hollingsworth and owned by New York & Porto Rico Steamship Co., on voyage from Table Bay to Alexandria with coffee, hides, etc, sank after a collision, off Ras Abu Bakr, Red Sea.with the city of Sigapore
She sits upright in the nmiddle of the shipping lane north of Ras Gharib in 64 mtrs of water
S.S SAMOSET
The Samoset was a 5,521 GRT Tanker originally built as the Cadillac at Napier & Miller, Ltd., Glasgow (Yard No. 163 at Old Kilpatrick) for Anglo-American Oil Co., Ltd., Glasgow, Scotland. She was launched 07 November 1908 and completed in January of 1909. The ship was 117.4 meters in length, 15.8 meters in beam, with triple-expansion engine and single propeller. About Anglo-American Oil Co., Ltd., it was the first foreign affiliate of John D Rockefeller's US company the Standard Oil Trust. In 1934 this came to be called "SO" or as it is more commonly known as: "ESSO". Eventually becoming EXXON in 1972.
The Cadillac was sold to the Tank Storage & Carriage Co., Glasgow in 1912, renamed Samoset in 1914, and then sold again to Standard Transportation Co., Hong Kong in 1916.
On 20 March 1918, while on the Port Said-Brindisi route with a cargo of fuel oil, the Samoset was attacked by German submarine U-33 (Hellmuth von Doemming) without warning and sunk approximately 50 miles North-by-Northeast-by-3/4 East from Port Said with the loss of 3 personnel.
S.S.  SAN  ANDRES
The San Andres 3,314 Cargo Ship built at Workman Clarke & Co. Ltd., Belfast, N.I. for Clark & Service (United Fruit), Glasgow. She was launched 29 January 1918 with a length of 96.1 meters, beam of 13.5 meters, triple-expansion engine and single screw providing a speed of 15 knots. She was also one of the first of a new type of vessel….The Refrigerated Cargo Ship!
Requisitioned for war use by the Ministry of War Transport (MoWT), she was provided with defensive armament.
On 02 September 1918, while on the Salonica – Port Said route in ballast, the San Andres was attacked, torpedoed, and sunk by German submarine U-65 (Gustav Siess) approximately 40 miles North-by-West of Port Said. No casualties reported
M.V SEA HAIL
The 8745 ton Cyproit motor vessel, Sea Hail was built in 1970 and owned by the Sea Hail Shipping company. Out bound from Gdynia to India with a cargo of bagged sugar, she developed engine trouble followed by an explosion, sinking 3 hours later
"30 miles south of the entrance to the Gulf of Suez"  on 27/09/1985
THE STAR OF RAWIAH.
This is a small Saudi Arabian cargo steamship of 778 tons, 211ft long which lost her steering on a journey from Suez to Safaga in ballast, and ran aground in 1972.She later slipped of the reef into 25 mtrs of water, in the vicinity of the Ashrafi lighthouse April 6th 1972 and is becoming an integral part of the reef system, with many fish and invertebrates living in and around her remains. Built at the Collingwood shipyards in 1943 for the Orri Navigation line.
SS. STEEL SEAFARER
"ISTHMIAN LINES SS STEEL SEAFARER SUNK AT MIDNIGHT SEPTEMBER
 5-6 BY AERIAL BOMBS 25 MILES SOUTH OF SOHAI PENINSULA, NO LOSSOF LIFE, RN CRUISER COVENTRY ON SPOT INVESTIGATING, 24 OF CREWON SHADWAN ISLAND AND 12 AT HURGADA."
Picture depicting the rescue of an American Admiral and 4  Americans from the stricken Steel Sea Farer by an  Egyptian Fleet Motor boat
Courtesy of the El Alamien Museum
Line book drawing of the target from a U boat captains  notebook
SERIEUSE
The Serieuse was a 32-gun, 600 ton Magicienne class frigate of the French Navy. She was ordered on 28 August 1778, but was not completed before the British had captured Toulon. Before the British abandoned Toulon on 18 December 1793, they set fire to the ship. However, the French were able to extinguish the fire and save the ship and subsequently complete her.
The ship was 44.2 meters in length, 11.2 meters in beam, and 5.2 meters in draught. Armement was 26 x 12 pounder long guns and 6 x 6-pounder long guns.
Painting of a Magicienne Class Frigate
In 1781, the Serieuse ferried soldiers after the Invasion of Minorca.
Captured by the HMS Speedy 09 June 1794
In 1798, the Serieuse was part of Napoleon's Expedition of Egypt and participated in the Battle of the Nile on 01 August 1798. During the battle she was attempting to reinforce the crew of the Tonnant with 150 men of her own crew. Engaged and sunk by the HMS Orion. The following morning, 02 August 1798, her poop deck was still above water and her crew was rescued and made prisoner by the British. (see L'Orient for an account of the Battle of the Nile.)
The Serieuse now lies in approximately 5-7 meters of water just north of the ancient sunken city of Heraclion (31.18.775N/30.07.670E). Not much remains of the ship except a few charred timbers laying on the seabed. Archaeological excavation of the site has been conducted by the team of Frank Goddio and the Egyptian Supreme Council of Antiquities Department of Underwater Archaeology. This wreck is currently off-limits to recreational diving
References:
P& O SHILLONG
Built at Vickers Armstrong's ,Walker yard #104  Mar 1949, for the P&O LINE, The SHILLONG was 8934 tons  gross,4816 nett and 522 ft long. She was fitted with three geared steam turbine engines built at Barrow in Furness which could deliver 13000shp through a single prop. She had a speed of 17 knots. Classified as a general cargo liner, she could carry 12 passengers and had a crew of 87
THE FINAL VOYAGE
In October 1957 the P. & O. Shillong steamed down Southampton Water, Ushant under the command of Captain Spurling, she carried 6 passengers, 26 British officers and 61 crew. Passing the  Queen Mary and the American aircraft—carrier Forrestal she journeyed through the Bay of Biscay, past Portugal, Spain and through the Straits of Gibratar to her first port of call, Almeria, in fine clear weather. Here she loaded grapes for the East; then headed  north and east to Genoa to discharge and take on more cargo, and  finally south to Port Said and the entrance to the Suez Canal.
Jan Goddard heard the siren as he went into the chart-room to collect the 'stations' book to note down the helm and engine orders for later inclusion in the log-book. The Captain heard ittoo, and came racing up the ladder. Almost at the same time the oncoming ship altered her helm to port—she had decided to try and cross the bows of the Shillong.
The Shillong's Second officer moved to the single engine-room telegraph in the wheelhouse and rang it over twice, "Emergency Full Astern!"
Too late. The two vessels raced towards a collision point with their helms turned in opposite directions.  Ian Goddard, standing on the helmsmans starboard side could now make out the huge wide beamed tanker approaching amidships. He grabbed onto the telegraph as the ship lurched over to port. The on coming vessel having struck only some 20 ft away-demolishing the #2 motor boat
As the Tanker swung under the momentum of the Shillong, she slid astern leaving a huge gash in her port side
The sea poured the Shillong's engine—room, and the port-side deep cargo oil-tank was filling rapidly with the sea, pulling the ship down. The other empty cargo oil-tank on the starboard side, was acting as a buoyancy chamber. The Shillong spun round and heeled over on her port side The water was now up to her boat-deck number3 hold had flooded.
The gravity davits, had been designed to work against an adverse list of 15 degrees, but with the Shillong s list at 30 degrees they were rendered useless-and the starboard lifeboats unusable. On the port side the forward boat was smashed, and the aft boat's davit had been bent by the collision.
Every effort was made to use inflatables, and as the engine room flooded the vessel righted itself and the starboard lifeboats were utilized. The crew and passengers abandoned ship as she settled low in the water, Capatin Spurling being the last to leave.
Shortly after a tanker, the SKOTLAND came close by, slowing and lowering her own boats, taking the survivors on board. Ironically, this was the north bound vessel which had prevented the Shillong from taking evasive action. Meanwhile the Shillong had settled, and just after midnight she went down stern first. Three lives were lost.
To this day, despite our every efforts this ship has not been located. We are assured by the hydrographic department she is there, she has not been salvaged, just waiting to be found… Throughout 2015 we shall be running expeditions to locate and dive her and the DOMIAT. .Why join our next wreck hunting trip!
M.V . SHEFIF
The Cypriot cargo ship Sherif capsized off Alexandria with a cargo of fruit juice on the 29th June 1979
S.S. SAMOS:
The Samos was a steam cargo ship of 921/1,208 Grt. which was originally completed in 1889 as the Oldham by Earle's Shipbuilding & Engineering Co., Ltd., Hull Yard No. 315 for Manchester, Sheffield & Lincolnshire Railway Co., Grim. Launched 01 November 1888 and completed January 1889, she had a single screw and a cruising speed of 12 knots. Sold to Greece in 1913 and re-named Eleftheria. Re-named Samos in 1929. Owner at time of sinking was D. Inglessi Fils,
On 17 October 1941 while enroute to Tobruk via Mersa Matruh carrying a cargo of government store. The convoy that the Samos was sailing with (Pass of Balmaha, and either the KOS 19 or HMS Cocker) was sighted at 0055 by the German submarine U-97 (Udo Hellmann) about 50 miles west of Alexandria. At 0217 a first spread of three torpedoes were fired from the U-97 which all missed. A second spread of two torpedoes was fired at 0325 which hit and sank the Samos at position 31.14N/28.50E in over 1000 meters of water. A third spread of two torpedoes was fired at 0400 which sank the Pass of Balmaha (all hands lost)
The ships were on their was to rendezvous with the HMS Gnat and lighters A13, A17, and A18 off of Mersa Matruh in support of Serial 4 of the Cultivate program. Twenty-four crew, three gunners, and four British personnel were lost on the Samos.
MV SVANA
The Svana was a whaling vessel of 268 Grt. built at Smiths Dock Co., Ltd., (South Bank-on-Tees, UK) Yard No. 934 for the South Georgia Co. Ltd., (Christian Salvesen & Co., Leith, UK). She was launched 30 July 1930 and completed the following month.
The ship was requisitioned by the British Admiralty in april 1940 and converted for mine sweeping service during WWII. Assigned to the Royal Naval Patrol Service (Pennant FY 1707) under the command of Lt. John McDonald Ruttan, DSC RCNVR.
Bombed and sunk by Italian aircraft on 08 April 1942 off of Alexandria..
S.S STANDISH HALL
The Standish Hall was a cargo ship of 3,996 Grt. built at William Doxford & Sons Ltd., Sunderland, Yard No. 438 for the Standish Hall Steamship Co., Ltd., (E. Nicholl & Co.), London. She was launched 19 April 1912 and completed the next month. The ship was 106.6 meters in length, 15.5 meters in beam, single screw with a cruising speed of 12 knots. Requisitioned for war service by the British Admiralty and defensively armed.
On 04 February 1918, struck without warning by a torpedo fired from German submarine U-33 (Hellmuth von Doemming). The Standish Hall sank approximately 38 miles West-by-North of Alexandria.
S.S SHUNTIEN
On December 23rd 1941 the  British steamship Shuntien was making for Alexandria , having departed Tobruk, with between 800 and 1000 prisoners of war on board, when she was torpedoed, The captain , 4 officers and the chief steward were all killed. As a result. The survivors were taken on board a navy escort vessel, itself then becoming a victim of the same assailant. Her last known position was between Sollum and Marsa Matruth. Built in 1934 at the Taikoo Dock, she was 3059 tons, 303 ft long and registered to the China Nav. Co.
S.S.SLAVOL
The Slavol was built as a 2,623 Grt. Fleet Oiler for the British Admiralty (Royal Fleet Auxiliary) by Greencock & Grangemouth Dockyard Co., Ltd., Greencock. The ship was launched 21 April 1917 and completed 01 November 1917. She was 320.1 feet in length, 41.6 feet in beam, and 21 feet in draught. Steam triple expansion engines, single screw with a cruising speed of 14 knots.
On 26 March 1942 the Slavol was entoute from Alexandria to Tobruk with a cargo of fuel oil under the escort of the HMS Jaguar and the Greek Destroyer Queen Olga. There are conflicting reports of her sinking;
First (From the sinking of the HMS Jaguar: During escort of HM RFA SLAVOK with Greek destroyer QUEEN OLGA came under attack by U652 .Whilst rescuing survivors from RFA which had been set on fire aft being torpedoed by U652 was herself hit by two torpedoes from same submarine in position north east of Sollum (31.53N 26.18N.)Sank immediately with only 53 survivors who were rescued by HM Whaler KLO (SANF). 193 of ship's company lost their lives.
AND…..,At 02.27 hours on 26 Mar, 1942, HMS Jaguar (F 34) (LtCdr L.R.K. Tyrwhitt, DSO, DSC, RN) was attacked by U-652 with a spread of four torpedoes northest of Sollum. Two of the torpedoes struck in the bow, the ship caught fire and sank in a short time. Three officers and 190 ratings were lost. Eight officers and 45 ratings were picked up by HMS Klo and taken to Tobruk. The destroyer had been part of the escort for the tanker Slavol, which was sunk some hours later by U-205 (Reschke).
Second:At 05.10 hours on 26 Mar, 1942, the escorted Slavol (Master George Sydney Perry) was hit by one stern torpedo from U-205 and sank within five minutes off Sidi Barrani, Egypt at location 32.01N/25.55E. The ship had been missed by a spread of four bow torpedoes three minutes earlier. 36 crew members were lost. The master and 19 crew members were picked up by RHS Vasillisa Olga (D 15) and landed at Alexandria. The fleet oiler was enroute to Tobruk to bring fuel for the 5th  Flotilla.
M V SMIT LLOYD 10 (43154)
A 784 ton Dutch supply tug, built in 1966 at Krimpen. She was 60 mtrs long. and displaced 784 tons. She sank in 25 mtrs after striking an oil well in September 1978 near the Morgan Oilfield. Her 7 man crew were rescued.
E.N SOLLUM
The Sollum was originally the HMS Wedgeport (J-139), a Bangor Class (also known as Ardrossan class) minesweeper built at Dufferin Shipbuilding Co. (Toronto, Ontario, Canada), Montreal-Loco Yard No. 56 for the Royal Canadian Navy. Laid down 29 April 1941, launched 02 August 1941, and completed 21 April 1942. The ship was 665 Grt (672 Brt), 189 feet in length, 28.5 feet in beam, and 8.25 feet in draught. She was powered by two 3-drum small tube-type boilers which provided a top speed of 16 knots. Crew compliment was 60 personnel and was armed with a single 3-inch AA gun, two 20-mm AA guns, and 4 machine guns.
The Bangor class minesweepers which were known for their poor handling capabilities. Their shallow draft made them unstable and their short hulls tended to bury the bow when operating in a head sea.   tHe HMS Wedgeport was transferred
to the Egyptian Navy 02 August 1946 On 07 March 1953, during bad weather,
the Sollum foundered and sank off of Alexandria. 54 lives lost.
.
S.S. SARNIA
The Sarnia was a steam passenger ship of 1,498 Grt. built at Cammel Laird & Co., Ltd., Birkenhead Yard No. 762 for the London & S. Western Railway Co., Southhampton. She was launched 09 July 1910 and completed March 1911 with 3 screws which provided a maximum speed of 20.5 knots. During WWIthe ship was utilized as an Armed Troop Carrier.
The Sarnia is best known for its collision with the British requisitioned ferry Hythe at approximately 2000 on 28 October 1915 at Mudros Bay in which the Sarnia accidentally collided with the Hythe (Lt. Albert V. Kenyon, RNR), who was running without lights as it neared its destination, cutting deep into the port bow, almost halfway through the ship, and brought the ship to a complete standstill. The Hythe was overloaded with men packed on the decks, many huddling under an awning that had been rigged to provide little relief from the bad weather, rain, and spray. When the Sarnia collided with the Hythe it caused the foremast to fall onto the awning and men directly below causing many casualties. The Hythe sank in approximately 10 minutes with many personnel being drowned beneath the awning or trapped in the cabs of vehicles being transported onboard. The Sarnia lowered its boats and attempted to rescue as many people as possible. Between 130 and 143 men were reported lost in the sinking. The Sarnia survived the collision and was repaired.
The Sarnia was later sunk on 12 September 1918 off off Alexandria by German submarine U-65 (Gustav Siess) at position 32.58N/30.55E in 80-110 meters of waters with 53 lives lost. The survivors were in the water for nearly two days before being picked up.
S.S.STURLA
Built in 1933,as the ESTRID, by Helsingors, the 1397 ton Danish steamship was seized by the French and re named St.Guilaume. She was then taken over by the Italian Government and re named the STURLA. On July 12th  1942, she was attacked and bombed by British aircraft and finally sunk by a British MTB off  Marsa  Matruh. She was 1397 tons, 262 ft long and fitted with compound engines
S.S SURADA
The Surada was a 5,236 Grt. Passenger/Cargo ship built at A. & J. Inglis, Pointhouse, Glasgow (Yard No. 266) for the British India Steam Nvigation co., Ltd., Glasgow. The ship was launched 25 January 1902 and completed 03 March of that same year with a length of 125 meters, beam of 15.5 meters, triple-expansion engines, and a single shaft for a speed of 10.5 knots. She was designed to carry 9 First-Class passengers, 16 Second-Class passengers, and 1,421 Steerage Class passengers.
Leased for use by the Australian Commonwealth during WWI and designated an HMAT, she carried the Australian 9th Light Horse Regiment 1st Reinforcements (06 February 1915) and the Australian 10th Light Horse Regiment (26 September 1916) from Freemantle, Australia to the Middle-East and Western Front theatres. Commonwealth control of the Surada ended on 04 January 1917.
On 02 November 1918, while enroute to Marseilles from Karachi with a cargo of rice and gunnies, the Surada was attacked, torpedoed, and sunk by German submarine UC-74 (Hans Schuler) off  Port Said. No casualties
S.S SZECHUEN
The Szechuen was a 1,885 Grt. steam Passenger/Cargo Ship built at Scott & Co., Greenock for the China Steam Navigation Co., Ltd., London. She was launched 30 May 1895 and completed the following June with a length of 79.5 meters, beam of 11.6 meters, triple-expansion engine and a single shaft.
The Szechuen was taken over by the Shipping Controller, London, in 1916 for service during WWI and was defensively armed.On 10 May 1918, while enroute to Port Said, under the command of Capt. Tucker, on the Famagusta-Port Said route with general cargo and firewood, the Szechuen was attacked, torpedoed, and sunk by German submarine UB-51 (Ernst Krafft) approximately 60 miles North-by-East-1/2 East from Port Said at position 32.00N/32.46E. 9 casualties reported.
FURTHER DETAILS  CAN  BE  DOWNLOADED  FROM
www.KUBIstore.com & www.Miflexhoseshop.co.uk