30 YEARS OF PUBLISHING
TWO NEW TITLES FOR 2021
MISTAKEN IDENTIY-heres a glimpse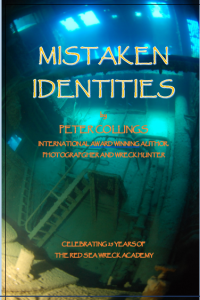 ALMIRANTE BARROZO/S.S. BHIMA
Most of our find in the Red Sea have been in almost idyllic conditions, great viz warm water little or no current, and an average depth of 25 mtrs. Even so it requires a scientific approach, and any assumption can leads right down the wrong path.
So put a wreck in 70 mtrs, open water, strong currents, and shipping passing overhead. It's an achievement in it's own right to locate and dive, and indeed bring back details.
Despite all the work and research done over the last 30 years- and many independent bodies have provided us with "complete lists"-more  names still turn up. Even DODAS, the  hallowed and highly respected publication by LLOYDS comes up short.
The two wrecks/ships below are similar- but not identical. The obvious clues in the mis identification were there all the time; No armament, two masts instead of three, and a tiny almost auxiliary engine and not a triple expansion engine that would be required to drive a warship.
While only 30 ft longer  the  A B  was an armed corvette while the Bhima was an auxillary brig, and in essence a bigger vessel in beam and draught as well as length.
ALMIRANTE BARROZO
Built in 1880, described as a steam  corvette, The ALMIRANTE BARROZO was on a world navigation  voyage and training exercise when she experienced compass deviation and ran aground near Jebal El Ziet in the Gulf of Suez. Then a lieutenant, Admiral Botteaux and her crew were rescued by HMS Dolphin, commanded by Lieutenant Christopher Cradock.Her master was Captain J.M. Batista De Leao.
"In 1893, while under the command of Lieutenant Christopher Cradock, she rescued the crew of the Brazilian Navy corvette Almirante Barroso, which had wrecked on the coast of the Red Sea near Ras Zeith on 21 January 1893 during an around-the-world cadet cruise"
Keel laid: March 1, 1880
Release: April 17, 1882
Incorporation: July 19, 1882
Issue: May 21, 1893
Displacement: 2,050 ton.
Dimensions:  71.25 m in length and 64.00 m in length between pp, 10.97 m in width, 11.33 m in height and 5.10 m in draft.
Shielding: mixed construction; wood and steel.
Propulsion: mixed; sail, armed in Corvette with a surface of 1625 m 2 and steam engine generating 2,200 hp.
Speed: 12 knots.
Armament: 6 Whitehead cannons of 70 cal. and 4 Nordenfelt machine guns of 25 mm and 6 Nordenfelt machine guns of 11 mm.
History
The Cruiser Almirante Barroso , was the second ship to bear that name in the Brazilian Navy in honour of Admiral Francisco Manuel Barroso da Silva, Baron of Amazonas. It was built by the Arsenal of Navy of Rio de Janeiro, with national iron produced by Fábrica Ipanema, according to the plans of Captain-Lieutenant (EN) João Cândido Brasil and those of machinery by Captain-Lieutenant Manoel J. Alves Barbosa. His keel was struck on March 1, 1880, launched April 17, 1882, in the presence of Emperor Pedro II and his patron, hero of the Battle of Riachuelo, in addition to other authorities. It had a cost of approximately 790: 000 $ 000. She was incorporated into the naval fleet  June 26, 1884 and submitted to the Armament Exhibition on July 13, 1884.
Under the command of Captain-de-Mar-e-Guerra Luís Filipe Saldanha da Gama, she made a famous trip to the United States, having called at Barbados, Jamaica, New Orleans, Havana, Matanzas, New York, Newport, São Miguel, Madeira , Santa Cruz de Tenerife (Canary Islands), São Vicente, São Tiago, Santa Catarina and Ilha Grande.
1884
On August 19, the Evolutions Squadron created by Notice no. 1541A, of the then Minister of Business of the Navy, Admiral Joaquim Raymundo de Lamare was incorporated. The Evolutions Squadron had as its first commander the Chief of Police Squadron Arthur Silveira da Mota, Barão de Jaceguai and was formed by sixteen ships, among them the battleships Riachuelo , Sete de Setembro , Solimões and Javary , the cruisers Guanabara , Almirante Barroso , Trajano and March 1 , 1st Class Torpedoes 1 , 2 , 3 , 4 and 5 and the 4th Class Alfa , Beta and Gama Torpedo Boats . The Evolutions Squadron was the most modern nucleus of the Brazillian fleet (Armada) at the time,  and was equipped with ships with the best propulsion, artillery and torpedoes.
1888
She was seconded from the 2nd Cruiser Division to undertake an Instructional Trip for the Navy Guards of the Class that concluded the course at the Naval School in the year 1886.
On October 7, under the command of Captain-de-Mar-e-Guerra Custódio José de Mello, she left Rio de Janeiro on a Navy Guards Instruction Trip, her first circumnavigation trip, and the second by a Brazilian warship. On that trip he sailed 36,692 miles and climbed in Montevideo, Buenos Aires, Punta Arenas, Colonia de Magalhães, Valparaiso, Sydney, Yokohama, Nagasaki, Shanghai, Hong Kong, Singapore, Batavia, Atjeh (Acheen), Colombo, Bombay, Aden, Jeddah, Suez, Port Said, Alexandria, Naples, Toulon, Barcelona, ​​Gibraltar and Salvador. The 2nd Lieutenant , Prince Dom Augusto Leopoldo, son of Princess Leopoldina, was part of the ship's officiality.
1889
Its armament was upgraded to consist of six 120 mm cannons .
1890
On July 29, she arrived in Rio de Janeiro, ending her first circumnavigation trip.
1893
On May 21, under the command of Frigate Captain Joaquim Marques Batista Leão, who took command in Bombay, due to the promotion of Custódio de Mello to Rear Admiral,
THE SINKING
Due to magnetic deviation of the compass she ran aground  and began to sink.
" NEAR RAS ZEITH IN THE RED SEA."
"NOW HAS 10FT ABOVE HER DECK"
"OFFICERS AND CREW ARE SAFE, HAVING LANDED IN A SMALL ISLET NEAR TO THE REEF SHE STRUCK"
"STRUCK A ROCK NEAR RAS GHARIB"
"AGROUND AT RACHDIB"
Authors note march 2021 to date this wreck has not been located. It is the subject of our on going wreck hunting expeditions
SS BHIMA
Built in1864 at Earles Shipbuilders Hull, for the BOMBAY STEAMSHIP CO. She was 256 ft long,32 ft beam, 20 ft draught  fitted with a 2 cylinder direct acting 100nhp  steam engine, and classified as an auxillary brig.1194 TONS TWIN MASTS.
On September 11th 1866  while ona voyage from Bombay to Suez, she was in a collision with The steam ship NORMA
BENT PROPS AND BROKEN TAILS-AIRCAFT UNDERWATER
both new tiles to be published at the end of MARCH 2021
30 years of publishing
In 1985 I wrote my first underwater dive guide. A humble look at diving along the North East Coast. Thanks to some unexpected publicity from the BBC, it was to kick off a career beyond my wildest dreams.
2016 see the 30th anniversary of that first publication, and to celebrate, I am producing no less than 20 shipwreck guides in E-BOOK PDF format, and making them available to all divers absolutely free.
The pilot Title "The Tile Wreck, her True Story" was downloaded in 35 countries in the first month of publicaton.We have a world wide audience and readership-despite the fact they are only published in English
This has been made possible due to the outstanding support of our Sponsors; AP DIVING, APEX MARINE, SEA & SEA, CAMERA'S UNDERWATER, OTTER DRYSUITS, MYFLEX HOSES and the EGYPTIAN STATE TOURIST AUTHORITY.
Ten of the titles spotlight the Egyptian Red Sea, 4 detailing the areas of Suez, Safaga, Tiran and the South, while the Tile wreck, The Russian Wreck, Rosalie Moller and Thistlegorm each get their own volume. "They Never Came Back" features ships built on the Tyne, which have found their final resting place in Egypt, and "Egypt's Top 20 Wrecks" showcases the very best of Egyptian Shipwrecks.
Ten other titles cover various collections of shipwrecks worldwide; Truk Lagoon, Palau, Pacific, Malta, the Maldives, Leros, Bushuanga and shortly Subic Bay.
JUST ADDED ; THE RED SEA WRECK BIBLE "DIVE EGYPTS SHIPWRECKS" IN 5 VOLUMES FREE TO DOWN LOAD AND READ FROM
www.KUBIstore.com & www.Miflexhoseshop.co.uk
THE COMPREHENSIVE GUIDES TO EGYPTS SHIPWRECKS;
30 years in the making, 480 pages of A4 text images and sketches, these 5 volumes cover a journey from the Sudanese border up through the Red Sea, Gulf of Suez and in the final volumes the unexplored Mediterranean coast to Sollum on the Libyan border . It pays tribute to the staggering work of the RSWA members- many of whom have never been underwater, but without their help this would not have come to fruition. A staggering amount of accurate information on over 200 shipwrecks, many still waiting to be found of the med coast. Not yet definitive as there is still much work for our dive team to do- including locating the ALMIRANTE BARRAZZO and the  P&O SHILLONG. No doubt it will be plagiarised and copied into other web sites and there may even be a second edition of the seagoons novel.
DIVE EGYPTS' WRECKS VOL 1 THE SOUTH
https://www.dropbox.com/s/fzykupiip85z3hu/2021%201%20dive%20sth.pdf?dl=0
DIVE EGYPTS' WRECKS VOL 2 SINAI
https://www.dropbox.com/s/c4g7h6etm6echby/2021%202%20dive%20sinai.pdf?dl=0
DIVE EGYPTS' WRECKS VOL 3 SUEZ
https://www.dropbox.com/s/0xy0sx3i249m09m/2021%203%20dive%20suez.pdf?dl=0
DIVE EGYPTS' WRECKS VOL 4 THE MED PART 1
https://www.dropbox.com/s/8e0m0k72soeyaum/2021%204%20dive%20med%201.pdf?dl=0
DIVE EGYPTS' WRECKS VOL 5 THE MED PART 2
https://www.dropbox.com/s/h81rle14ogm11b8/2021%205%20dive%20med2.pdf?dl=0
SERIES 2
SHIPWRECKS OF TRUK LAGOON.142 pages in glorious colour, designed  for the visiting diver, compiled over 16 visits. Hundreds of high quality images and sketches fearturing all the classic wrecks-FUJIKAWA MARU, IJN SHINKOKO, KENSHU MARU,HEIAN MARU  etc, plus all the deeper wrecks SANFRANSISCO MARU, NIPPO MARU, AIKOKO MARU etc.Regarded as the ultimate wreck location(along with Bikini)-
https://www.dropbox.com/s/9vyjc3br541j60l/2021%206%20truk.pdf?dl=0
SHIPWRECKS OF MALTA GOZO,COMINO)
A comprehensive guide to all aspects of Malta's wrecks- in 4 distinctive sections- the tourist stuff above 40 mtrs, the plethora of aircraft(including a Junkers  88), and the normoxic wrecks , finally the hypoxic stuff. In addition there are some extensive appendix steeped in historyhes.153 pages lavished with photos and sketches 153 pages.
https://www.dropbox.com/s/f3icjfjzso1s8r3/2021%207%20malta.pdf?dl=0
ROSALIE MOLLER-AN IN DEPTH GUIDE
A detailed account highlighting its discovery- the conspiracy theory and a detailed account of how to get the best out of this iconic Red Sea  wreck
https://www.dropbox.com/s/rqs8k35g3pcnkyt/2021%209%20rosalie.pdf?dl=0
THE TILE WRECK-THE TRUE STORY (Silencing the Bantinites pt1).It started the series off- intended as a one of-its success led to another 24 titles- its initial intent was simply- to those armchair experts –"prove me wrong". A production that reflects the teamwork and dedication of the RSWA members, and fully details how to dive the wreck and check out all the facts.
https://www.dropbox.com/s/miy376n86hxunq9/2021%208%20THE%20TILE%20WRECK.pdf?dl=0
THEY NEVER CAME BACK.
Initially based on 7 Tyne built ships that never came back-and all ended up in Egyptian waters.-including the elusive SHILLONG, the DUNRAVEN, the first wreck discovered in Egypts'  diving history. For the 25th anniversary edition we have expanded to include the river Wear.109 pages includes the SCALARIA,ULYSSES, CARINA, TURBO,AL QAHER and new discovery the BHIMA.
https://www.dropbox.com/s/lfn90uvwm816bev/2021%2010%20THEY%20NEVER%20CAME%20BACK.pdf?dl=0
SERIES 3
DIVE PALAU.
In addition to its world war two wrecks, this book reports on the magnificent marine life and reefs of one of the worlds most diverse diving location.
https://www.dropbox.com/s/yj64p6v8jruuvbc/2021%2011%20palau.pdf?dl=0
75 YEARS UNDERWATER(The Thistlegorm revealed)
The most comprehensive account ever produced-on this popular shipwreck, with material from otherwise never disclosed  documentation, revealing some new material about her final journey, cargo and captain. Detailed tours of the wreck will enhance anyones' first visit and  revealing for those who think they know the wreck 152 pages of A4 text archive material and photos.
https://www.dropbox.com/s/t2gbgvi5tykdhuv/2021%2012%2075%20years.pdf?dl=0
SHIPWRECKS OF D'PEARL BAY (Coron)
Re defining the identity of these WW2 wrecks, which include 3 world class wrecks-AKITSASUMI, IRAKO and OKIKAWA. Arguably the best wreck diving in the Philippines- blessed with kind depths and stunning marine life, often considered as the "poor mans Truk", these dozen wrecks are highlighted with sketches and stunning underwater images.
https://www.dropbox.com/s/9hcb85cuxpl7qti/2021%2013%20coron.pdf?dl=0
SHIPWRECKS OF THE MALDIVES
An RSWA project which had great success, despite many of the initial wrecks being "fishing boat sunk for tourists"- the team re identified  at least one "real" wreck. Given the vast area the Maldives cover this book should really be the tip of the iceburgh.
https://www.dropbox.com/s/kd4cehvyuulb6hd/2021%2014%20maldives.pdf?dl=0
PACIFIC SHIPWRECKS.
The cover is graced by the late John Womack , the book covers Truk, Bikini, Guam, Coron, Palau and Kwajelien. For sure an ongoing and expanding work-but a mouth watering account of this fascinating area.
https://www.dropbox.com/s/3uwlmldlk5cn7xt/2021%2015%20%20pacific.pdf?dl=0
SERIES 4
EGYPTS' TOP 20 WRECKS
This updated version now is covered in 106 pages- with a change in the pecking order with new wrecks coming into the fray. Points gained for historical content, lack of diving traffic, points lost for overcrowding, diver damage, etc. but the number 1 is still well deserved.
https://www.dropbox.com/s/fy2mx1fkax1qe8u/2021%2016%20top20.pdf?dl=0
SHIPWRECKS OF LEROS, THE  "MALTA" OF THE AEGEAN.
Despite most of the material outlined for the book being raised and scrapped, the project revealed some unique material above and below, in this quite little back water of Greece.
https://www.dropbox.com/s/rzqi6a8inq3aw2l/2021%2017%20leros.pdf?dl=0
THE RUSSIAN WRECK (Silencing the Bantinites pt2)
Like the TILE WRECK, experts told us this wasn't a Russian spy ship, it was a cargo ship, or even a trawler, so the team went down there with a magazine editor and a raft of experts-judge for yourself, we reveal why she had 200 24 v batteries and a plethora of clues to prove her true purpose. A cold war museum.
https://www.dropbox.com/s/kfytane4vtgekr6/2021%2018%20RUSSIAn.pdf?dl=0
SHIPWRECKS OF SUBIC BAY
A quite little backwater in the Philippines blessed with some historically unique sites from a pair of M3 tractors complete with 70mm guns to a Spanish war iron clad to a hell ship, not to forget some interesting aircraft. Wwho needs good viz!
https://www.dropbox.com/s/eu53n7h3cutp8mn/2021%2019%20%20SUBIC.pdf?dl=0
THE DOMIAT
Perhaps one of the most exciting finds since the Rosalie Moller.The headline reads"British Corvette sunk by British cruiser".The detailed report of her sinking did not match the evidence we found.Lying in 52 mtrs she is the perfect technical dive and a fine example of a WW2 warship- the river class Corvette HMS NITH.Contains the only underwater images from this wreck.Another gem in the Gulf of Suez.
https://www.dropbox.com/s/b7qkddbc9m56psp/2021%2020%20domiat.pdf?dl=0
2020/1 new publications
SHIPWRECKS OF THE ABC & SPICE ISLANDS
A brief look at this corner of the CARIBBEAN, taking in Aruba, Bonaire, Curacao and Granada. Highlight is the wreck of the SS Attilla, a German WW2 freighter, plus a plethora of purpose sunk vessels and a couple of aircraft thrown in for good measure. The Bianca C is also featured
https://www.dropbox.com/s/an9n41wtuf03m97/2021%2021%20abc.pdf?dl=0
SHIPWRECKS OF THE FLORIDA WRECK TRAIL
The sign claims "the wreck capital of the world", maybe Mel Fisher would agree, but most of the wrecks featured here were sunk as tourist attractions. Nevertheless the DUANE, the SPEGEL GROVE and the VANDEBERG offer some challenging dives. Written by default- it was always a "back burner" but Covid 19 had other ideas. It turned out better than I had hoped!100 pages
https://www.dropbox.com/s/ym3bb736b9wzuoj/2021%2022%20florida.pdf?dl=0
SHIPWRECKS OF ABU NU HAS
By poplar demand a thoughough look at the "reef of the 7 deaths", although we feature in great detail the  famous 5, with new updated sketches and newly relased images of the Giannis D sinking.CARNATIC, MARCUS, GIANNIS D, KIMON M  and the CHRISTOULA  K get a full historical timeline putting an end to any doubt as to the identity and indeed existance of these 5 shipwrecks. https://www.dropbox.com/s/cv989ojn1gncl8q/2021%2023%20abu%20nu%20has.pdf?dl=0
MISTAKEN IDENTITIES (Silencing the Bantinites pt3)
A tribute to the members of the RSWA to mark its 25th anniversary- highlighting the in depth investigations of the team to bring to the forefront the true identity of wrecks we have encountered over the last 25 years, highlighting just how easy it is to get it wrong without taking a scientific approach, and the pitfalls of assumption.
https://www.dropbox.com/s/789imkjx1cbwmgz/2021%2024%20mist%20id.pdf?dl=0
BENT PROPS & BROKEN TAILS-AIRCRAFT UNDERWATER
A world wide romp taking in some iconic aircraft, from a Spitfire in the Lake district to a Superfortress in Lake Mead- with lots of salty tails in between. Aircraft underwater- bent props and broken tails, features newly commissioned sketches of many of the planes featured therein. 100 apges.
https://www.dropbox.com/s/2ajraxfefm0s11g/2021%2025%20brokentails.pdf?dl=0
T
Read before you buy-
www.KUBIstore.com & www.Miflexhoseshop.co.uk
The guides purpose is to inform divers of the true history behind the wrecks, their current condition, and to promote tourism and interest.-20 TITLES AVAILABLE NOW. Each volume includes a wealth of information, underwater and archive  photographs and in most cases sketches of the wrecks.
www.KUBIstore.com & www.Miflexhoseshop.co.uk
T
SHIPWRECKS OF THE MALDIVES
SHIPWRECKS OF THE PACIFIC
SHIPWRECKS OF MALTA(WIP)
SHIPWRECKS OF LEROS
The entire project has been funded by the generous support of the following;
AP VALVES, AMBIENT DIVING, MIFLEX HOSES. AQUALUNG & APEKS, SEA &SEA, CAMERAS UNDERWATER, OTTER DRYSUITS.
DOWN LOAD NOW FROM;
www.KUBIstore.com & www.Miflexhoseshop.co.uk
2020 DROPBOX LINKS
www.KUBIstore.com & www.Miflexhoseshop.co.uk
E book concept
The idea of the E-Book series came about after seeing so many incorrect publications quoting the wrong identity of the Tile Wreck at Abu Nuhas in the Egyptian Red Sea. Despite a plethora of undeniable facts presented by myself and members of the Red Sea Wreck Academy, self-proclaiming experts still, for reasons known only to them, continued to quote the Marcus as the Chrisoula K. It was archive photographs from Howard Rosenstein and the location of the ships bell, which added weight to Stephan Jablonski's accounts of the sinkings'. This new material gave us enough to produce the first E-book in 2008.
Being free from restrictions it soon found its way around the world and was passed on from diver to diver. It had the desired effect. Now more and more reports carry the correct identity. Sadly some don't!
It was also an opportunity to give something back to diving. Of course there was also controversy over the identity and purpose of the Russian Wreck at Zabagad, and this lead to the second title. "75 Years Underwater" is THE definitive guide to the worlds most dived wreck. "Suez Wrecks"-NOW DIVE EGYPT PT 3 highlights the achievements of our regular wreck hunting trips up into the Gulf and " dive Egypt's wrecks"  in 5 volumes is the most comprehensive guide to these waters .Other area's are also featured ;Subic Bay, Leros, Truk Lagoon, Maldives Malta,FLORIDA,  Coron and Palau.
12 years on, the project has proved its worth, despite being ignored by the diving press, and with its place on the issuu platform at KUBI/MIFLEX continues to provide true and accurate  information on many of the worlds best wrecks.
So now we have a total of 25 titles available,  yours to enjoy and pass on to anyone who may be interested. Don't forget we run regular expeditions and safaris to all these featured wrecks.
Safe diving. 
Peter Collings.