Scuba Diving Holidays – Guided by Peter Collings
M.V. Bakr Egyptian Survey Vessel
Shipwrecks Of The Egyptian Red Sea
Dive With Peter Collings -
forget the rest – DIVE WITH THE BEST!
Leading the way in Red Sea wreck discoveries since 1994!
With over 30 years of experience, who better than Peter Collings to take you on an exciting exploratory tour of some of the world's best shipwrecks. Regarded by many as the leading expert on the subject, Peter's book "Shipwrecks of the Egyptian Red Sea" has been described as a definitive work, but Peter's endless search for new and undiscovered wrecks will surely produce an update covering the entire Egyptian coastline. Throughout the trips, Peter shares his knowledge and experience, providing 1st hand advice on wrecks, photography and marine life, and generally ensuring you get the most from your trip. Several of the trips will allocate time to search for some 20 new wrecks as far north as Ras Zafarana in the Gulf of Suez, utilising the latest side scan units.
The targets for the exploration weeks include the elusive P&O Shillong, and the British Corvette the Domiat, which was sunk by a British Cruiser.We will also turn our attention to the undived Sinai coast north of El Tor
Don't worry if you don't have wreck hunting or survey skills; we will happily teach you and make you a part of our highly successful team – the Red Sea Wreck Academy.
PLEASE CONTACT US FOR 2015  AVAILABILITY-MANY DATES ARE ALREADY FULLY BOOKED!
tel 07518161970 or e mail us now!
Awards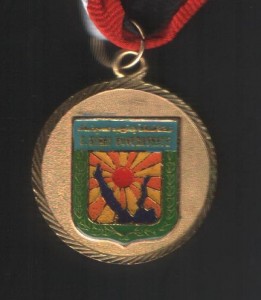 Presented to Peter Collings by His Excellence Mr Mustafa Affifi, Governor General, Sinai, for his outstanding contribution of exploration, discovery and tourism promotion in the Egyptian Red Sea.
"FOR AN OUTSTANDING CONTRIBUTION TO THE DIVING INDUSTRY OVER 25 YEARS"SSI Citation 1996