The Tile Wreck – Her True Story
The True Story Of The Tile Wreck At Abu Nuhas
Despite producing a plathora of evidence dating back beyond her sinking, the M.V MARCUS at Abu Nuhas, also known as the tile wreck is still misnamed and identified by some having the audacity to proclaim themselves experts.
NOW IN ITS 10TH YEAR- THE CHALLANGE WITHIN  UNANSWERED THE BANTINITES HAVE BEEN SILENCED
take a look at this picture-it was taken by the esteemed Mr Howard Rosenstien (who discovered the DUNRAVEN) IN 1979 YES 1979. it clearly shows the MARCUS( name on bow) sinking.
The Chrisoula K arrived some  3 years later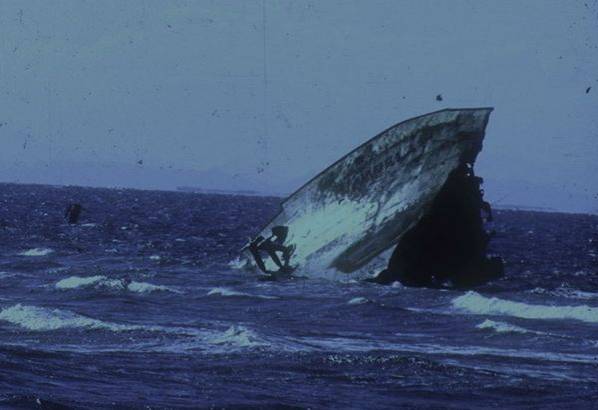 and so  to end all arguments "THE TILE WRECK, HER TRUE STORY" was published in E book format and given away free
Thousands have read this one already-so if you still think this is the Chrisoula K read on……. you WILL believe!!!!!!!!!!!!!!!!!!!!!!!!!
such was its success as an advertising medium we have produced 24 more…………….all free, perhaps some of these "experts" would do well to read them……………………
Free Book Available Now
THE TILE WRECK HE TRUE STORY (SILENCING THE BANTINITES)
This is the "pilot" which kicked the whole project off- and was intended as a one off, it's purpose to challenge all those who said "you're wrong"-wrong because of who I am not because of fact .Only 46 pages but presents all the facts surrounding the identity and events of the sinking of the TILE WRECK-THE MV MARCUS, which sank on AB NU HAS pre 1980. The book, launched in 2007, threw down a gauntlet to the sceptics /protagonists, labelled Bantinites by our team members. To this day, despite its popularity, no one has disagreed with the books findings. A classic tale of  marine insurance fraud
IN A RECENT MAGAZINE THE EDITOR WRONGLY QUOTED THE DATER OF SINKING AS 1981 PERHAPS HE SHOULD HAVE READ THIS BOOK FIRST